In mid-2016, the Pennsylvania Autonomous Vehicle Policy Task Force was formed in response to Secretary of Transportation Leslie S. Richards identifying the need to respond to the rapid pace by which this new technology is entering the marketplace. Co-chaired by Kurt J. Myers, PennDOT Deputy Secretary for Driver and Vehicle Services, and Roger Cohen, PennDOT Policy Director, the Task Force is made up of a well-rounded group featuring representatives from both the private and public sectors. Members include individuals from General Motors, Uber, Carnegie Mellon University, AAA, the state police and insurance companies, to name a few. For information on the Task Force and a full list of members, visit penndot.gov.
"PennDOT is committed to ensuring that we have individuals in various disciplines who are engaged not only at the national level, but also the international level when it comes to autonomous vehicles," says Kurt Myers. "Obtaining and harnessing a wider variety of perspectives is necessary in this progressive technology. It also helps to elevate Pennsylvania to the forefront of the autonomous vehicle movement."
This exciting technology is changing daily. To stay in front of the momentum, the Task Force is focusing their efforts on developing polices to ensure success and to remain flexible.
"Since this technology is consistently evolving, policy is more nimble approach than regulation," says Roger Cohen. "A policy approach speeds up our capability to address critical safety oversights. At the end of the day, the core mission of PennDOT is to maintain safety for the traveling public, and with our policy focus, we will be able to respond promptly and effectively when different needs emerge."
Connected vs Autonomous Vehicles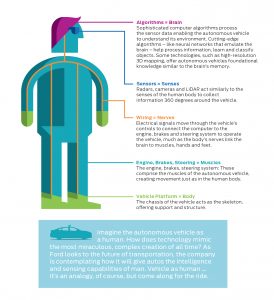 To better understand how connected and autonomous devices are shaping our future, it's important to understand what they are and what distinguishes them from one another. Connected vehicles are just that—they're connected to systems outside of the vehicle, like the internet. These vehicles have the potential capability to share their collected sensor data with other connected vehicles, various DOTs, and even the omnipresent cloud of applications and services around the globe. Autonomous vehicles are still connected; however, they take the technology a step further by driving automatically at some level for the driver.
Task Force Work & Goals
Compelled by enhancing safety across the board, the Task Force is on a mission to balance innovation and public safety. Their work has encouraged an increase in the development and the testing of autonomous vehicles within Pennsylvania.
"Testing must be made in a graduated process so we don't get ahead of ourselves," says Myers. "Every one of the various topographical inconsistencies make a difference as far as testing. Whether it's a tunnel, hill, or bridge, they all impact testing. The weather and various seasons also influence testing and are environments that need to be explored. Traveling through sunny Arizona in January can be very different from driving through Pennsylvania during that same time."
In addition to considering all the environmental factors, work zones are another test setting on the minds of the Task Force. Encountering a work zone is a challenge for the everyday driver to navigate because it's out of the norm, so autonomous driving technology must also account for the same situations. Therefore, this technology must be able to perform well in a variety of testing situations, including all types of road construction. Per Cohen and Myers, a commitment to all aspects of safety is their most critical policy focus while they support the overall growth and success of autonomous vehicles.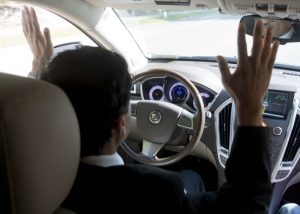 "Particularly with autonomous vehicles, it's important we continue to invest in the state of good infrastructure," says Cohen. "A well-maintained infrastructure is a necessary safety requirement for both human and non-human drivers. Work zones are a part of improving our infrastructure and ensuring it's in prime condition for all vehicles. When it comes to autonomous vehicles especially, they rely heavily on a well-maintained infrastructure to operate optimally. It all comes back to safety—testing all these various conditions and safeguarding the traveling public leads to safer environments."
Connected vehicles are already playing a key role in data collection and analysis in the transportation sector. DOTs, private industry, and other stakeholders are benefiting from better information about road conditions, traffic movement, and much more, made possible by the growing capabilities of connected technologies. For these technologies to keep evolving, the communication infrastructure, for instance Wi-Fi and other types of telemetry, must also be improved along roadways. Fast and reliable data transmission goes hand in hand with autonomous vehicle development and, ultimately, safer infrastructures.
Looking to the Future
The operational advantages of both connected and autonomous vehicles are significant. And though the launch date of fully autonomous vehicles is unknown, the momentum behind this movement is progressing daily and is undeniably contagious. The Pennsylvania Autonomous Vehicle Policy Task Force will continue testing and formulating policies around this technology to ensure we're all ready for the possibilities autonomous vehicles bring to the table. The opportunities of capturing immediate data are endless, and being able to utilize our findings will improve public safety and keep our communities moving.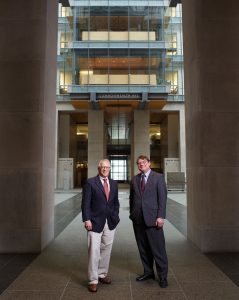 Kurt J. Myers, (pictured right) is the Deputy Secretary for Driver and Vehicle Services for the Pennsylvania Department of Transportation. Prior to being appointed to his current role in June 2007, he served as the director of PennDOT's Bureau of Motor Vehicles. Here he led the successful expansion of PA's vehicle emission inspection programs.
The most fulfilling part about being a co-chair on Pennsylvania's Autonomous Vehicle Task Force is "the opportunity to be at the cutting edge of this technology and to help in shaping the positive impact this technology will have for the quality of life for residents of Pennsylvania, the country, and across the world."
Roger Cohen, (pictured left) is the Policy Director for the Pennsylvania Department of Transportation. Before joining PennDOT's team in 2015, he was the Founding Principal for AutoKthonous. Prior to that, he was the Deputy Head of Planning and Policy at the Port Authority of New York and New Jersey.
For Cohen, the most fulfilling part about being a co-chair on Pennsylvania's Autonomous Vehicle Task Force is the fact that "I get to be a part of the most exciting public policy initiative in years. The influence of this technology is so significant—being a participant in this innovation is priceless in terms of the opportunity to make a safer transportation system and foster job creation and economic growth."